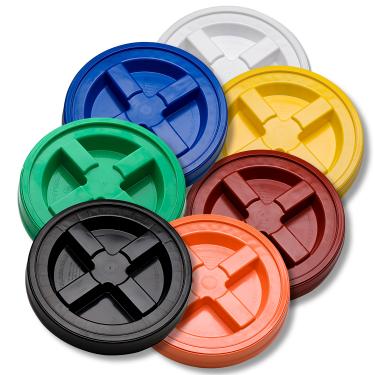 GAMMA SEAL LIDS. LOW AS $5.80 EACH. GAMMA2. GAMMA SEALS WAREHOUSE DIRECT

Buying in Bulk? Only $5.80 Each if you buy 12 or more 24 packs
-or-
Only $5.80 Each if you buy 24 or more 12 packs
What is a Gamma Seal Lid? A Gamma Seal Lid, or Gamma2 Lid converts a plastic bucket or plastic pail into a unique reusable plastic container, which creates a somewhat leak-proof and somewhat airtight seal.....5 Gallon Gamma Seal Lid fits all UN Standard 3.5 Gallon, 5 Gallon, 6 Gallon, and 7 Gallon UN Standard Buckets with a 12" Diameter.

---
Install by firmly pressing the ring onto the pail or bucket. Ring will take shape after its installed. Do NOT use a hammer or mallet.
Thousands of Gamma Seals in stock!

Low prices with no "free shipping" gimmicks. Easy to compare: Add a 12-pack to your cart and enter your zip code to see your total cost. A 24-pack should ship cheaper than two 12-packs.
Why buy from them after they buy from us to sell to you?
Buy direct from the warehouse for super savings.
We sell thousand and thousands of Gamma Seals!
What is Gamma2?


Let's start with what it isn't. Gamma2, or GammaSquared is NOT the name of the lid. Gamma2 is NOT the revision level of the Gamma Seal Lid, meaning there's no succession of revisions labeled as Gamma1, Gamma2, Gamma3, etc. So, then, what is Gamma2?

Gamma2 is the name of the company that manufactures and owns the rights to the Gamma Seal lid.

That's it, period. The company also has more than one mold to make the product. One mold makes the lid that looks like a simple "plus sign" (+) in the center and another mold has the "plus sign" along with a depressed circle in the center of the "+". When we get a shipment of Gamma Seal lids Gamma2 sends both styles so you may get one or the other, or both, even in the same case of a single color.

The pictures of Gamma Seals on this site are informational only and may only represent one of the many molds

. Note that we cannot sort out cases so that you get one style or another.

A bit more to think about...
Every house has at least one 5 gallon pail lying around that used to contain detergent, paint, etc. Why throw away a perfectly good bucket when you can turn it into genuine useable storage?
Don't throw away those like-new laundry detergent buckets, put them to good use with Gamma Seal!

The Gamma Seal lid permanently transforms your 12" diameter bucket into a storage container. Now a bucket can be used for hundreds of household and other storage applications! Simply snap the patented adapter onto your bucket and spin-on the removeable lid. Specially engineered gaskets ensure that the lid and adapter are properly sealed to ensure almost-airtight protection. I have many of these at home and they keep things organized. I have one for cat food, one for my rock salt, one for lawn fertilizer, one for a diaper pail, one on the boat, and a few others.
All you do is snap the adapter onto your pail, spin on the lid, and that's it. One quick spin and it's open, closes in seconds! No more prying off those difficult lids.
The Gamma Seal lid fits virtually any 3.5-7.0 gallon standardized paint/drywall compound plastic bucket (including 20 liter). We also sell the buckets (pails). Although we don't make any recommendation, people use them for:
PET FOODS

-Gamma Seals are excellent for storing dog and cat food and feed.


KITCHEN

-Gamma Seals are excellent to store food, grains, nuts, sugar. Buy bulk foods and keep them in a Gamma Seal.


RESTAURANT/BAKERY

-Don't pry lids off any longer. Get quick and easy access to your ingredients, seal in seconds with Gamma Seals.


GARAGE

-Use gamma Seals to store fertilizer, hardware, rock salt.


PAINT

-Seal and easily reopen your paint pails with a Gamma Seal.


BOATING/CAMPING

-Gamma Seals help keep things fresh. Use it to keep animals and bugs out of your things.


AUTO

-Keep greasy items in their place with a Gamma Seal Lid. Oil, towels, etc.


FISHING

-Snap a gamma Seal on a pail and you have a splashproof minnow bucket that floats.


PICNICS

-Fill it with ice and you have a cooler AND something to sit on!

*As Seen In "The Family Handyman" Magazine


---
Food Contact Information From The Manufacturer:
The Gamma Seal Lid: the raw material used in manufacturing is Formolene LH5206, High Density Polyethylene (HDPE).
Formolene LH5206 meets all requirements of the U.S. Food and Drug Administration as specified in 21CFR 177.1520, covering safe use of polyolefin articles intended for direct food contact.
The gaskets for the lid and the adapter are made from SBR (styrene-butadiene Rubber copolymer) and coated with an FDA approved silicone lubricant. The pigments used in manufacturing are heavy metal free.
Gamma Seals and Pails are BPA-Free.
---
Gamma Seals For Preppers: Preppers Buy Their Gamma Seals Here.
We have THOUSANDS of Gamma Seals In Stock right NOW.


Quantity Pricing-The More You Buy The More You SAVE!



Need to come back? Remember gammaseals.com
---
On all plastic materials, dimensions are in INCHES unless otherwise specified
Protective masking on materials, if any, may be paper, film, or both.
MOTOR FREIGHT ONLY items have a separate minimum requirement. See our faq page.
USA Orders/Payment Only. Prices are in US Dollars.
Note that we do not ship FedEx. UPS or Motor Freight to post office boxes.
Thank you for visiting freckleface.com