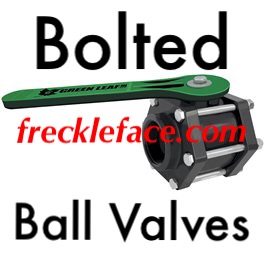 Bolted Ball Valves
Bolted Ball Valves, Polypropylene Bolted Valves
---
These are some of the finest valves sold by freckleface.com Sturdy and strong, the bolted polypropylene ball valves are ideal for agriculture valve applications and industrial applications. These polypropylene bolted valves can be opened or closed with only a quarter turn of the handle allowing quick shutoff of fluids. Bolted ball-valves are used for chemical handling, controlling water flow, sprinkler system valves, and bolted valves for farm applications, These can be used for irrigation systems where a bolted ball valve is needed to control the flow efficiently. Polypropylene valves won't rust or rot like metal valves do. These are also known as polypro, poly-pro, and poly valves. Most are in stock for immediate shipment so you don't have to wait!
---
4 BOLT, 6 BOLT, AND 8 BOLT VALVE SPECS:
*
The manufacturer has changed the handle style

and may not be as pictured

.
Older Stock Has Stainless Steel Handles with Locking feature for added safety. Only a few left!
New Stock Has Plastic Non-Locking Lever Handle

* Stainless Steel Bolts
* Precision molded in polypropylene. Polypropylene is reinforced with fiberglass for additional strength.
* Self-aligning ball moves freely against the TeflonŽ seats for smooth operation.
* The valve opens and closes with very little pressure on the handle.
* Ball is diamond turned, after molding, to make it spherically perfect, which provides precise contact between ball and seats.
* VitonŽ "O" rings.
* TeflonŽ self-lubricating stem bushings and seats cannot stick or bind

---
Please Note: On all plastic materials, dimensions are in INCHES unless otherwise specified.
Protective masking on materials, if any, may be paper, film, or both.
MOTOR FREIGHT ONLY items have a separate minimum requirement. See our faq page.
USA Orders/Payment Only. Prices are in US Dollars.
Note that we do not ship FedEx or Motor Freight to post office boxes.
Thank you for visiting freckleface.com