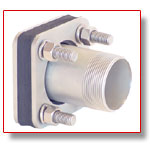 Rhino Fitting Half Nipples
The Rhino Half Nipple fittings are an MPT fitting and allow for NPT connection on the outside of the tank. Each fitting is produced with Precision Tooling, which guarantees 100% accuracy. Strict ISO 9001 quality control standards are enforced and put into practice on all procedures during the manufacturing process. Rhino fittings have oversized 1/2" diameter studs and come standard with die cut XLPE close cell foam gaskets.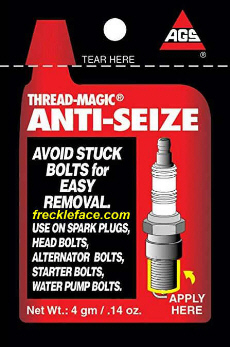 THREAD MAGIC ANTI-SEIZE COMPOUND 4 GM/.14 OZ PACKET
Thread-Magic Anti-Seize compound helps avoid stuck bolts caused by rust, galling, and stainless to stainless or aluminum to aluminum connections. On our bolted stainless steel tank fittings such as Norwesco Tank Fittings and Rhino Fittings you MUST use an anti-seize compound on the threads prior to assembly.
Reg. Price $3.50
$1.99

Sale
---
On all plastic materials, dimensions are in INCHES unless otherwise specified
Protective masking on materials, if any, may be paper, film, or both.
MOTOR FREIGHT ONLY items have a separate minimum requirement. See our faq page.
USA Orders/Payment Only. Prices are in US Dollars.
Note that we do not ship FedEx. UPS or Motor Freight to post office boxes.
Thank you for visiting freckleface.com