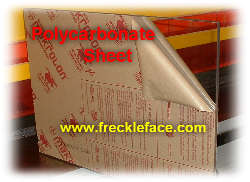 POLYCARBONATE SHEETS, CLEAR LEXAN
Polycarbonate Sheet & Lexan® Sheet
Need something clear, strong, and almost unbreakable? This
material is 200-250 times stronger than glass! Known by trade names
such as Lexan, Tuffak, Makrolon, and Hyzod. High tensile strength. Clear,
strong, and tough. Excellent for windows in high-crime areas. Easy machining.
Available With Ultraviolet Protection. Add to Cart to See UV Option

---
TO GET STARTED, CHOOSE A POLYCARBONATE SHEET THICKNESS
What is polycarbonate sheet? It is a clear, strong, tough material that has a wide array of applications. We have a complete line of lexan polycarbonate sheets for sale at freckleface.com. We carry clear polycarbonate panels for home and industrial sheet needs and yes, we can custom cut lexan panels and sheet to size on our large computerized custom cutting plastics saw. We have many thicknesses including 1/8" thick, 3/16" thick, 1/4" thick, 3/8" thick, and 1/2" thick polycarbonate. You can click on the thickness links to find the polycarbonate lexan that you need. When you add a sheet to your cart you will see custom cut size menus and simply answer the questions to get your lexan custom sized. We have many formats including 6" x 12", 12" X 12", 24" X 12", 48" x 96" polycarbonate and a whole lot more. Go to the respective pages to see many more custom sizes of polycarbonate. Although polycarbonate sheets are available in many colors and also smoked grey and tinted gray, freckleface.com has a full inventory of clear lexan and only clear polycarbonate sheets for sale immediately. We specialize in clear sheets and have a 10,000 square foot warehouse in Ohio full of plastic material. We will cut it to your size just for you as soon as we get your polycarbonate sheet order. We have low low prices, some say cheap prices on polycarbonate sheet, but remember that you get what you pay for. We carry only the highest quality polycarbonate and we have thousand of polycarbonate sheet sizes in stock. If you need polycarbonate panels cut to size, polycarbonate full size sheets, or lexan sheets, freckleface.com has got you covered and again, we will custom cut to most sizes that you may need per our custom cutting rules. Try this stuff for a super tough material when you need something clear to do the job instead of glass .


Clear polycarbonate sheets may be known by many trade names including:
Tuffak Polycarbonate Sheets


Lexan Polycarbonate Sheet

Makrolon Polycarbonate Sheet

Paltuf Polycarbonate Sheets

Monogal Polycarbonate Sheet

Marlon Polycarbonate Sheet

Merlon polycarbonate Sheets

Hyzod Polycarbonate Sheet

Cyrolon polycarbonate Sheet


Zelux Polycarbonate Sheet

Ensicar Polycarbonate Sheet

Unicar Polycarbonate Sheet

Texin Polycarbonate Sheets

Apex Polycarbonate Sheet

Covestro Polycarbonate Sheets
What is polycarbonate lexan used for? Polycarbonate lexan glazing for windows. It is used as sheet in machinery guards and industrial assemblies because it is clear and strong, 200-250 times stronger than glass. You may use it for windows, displays, greenhouse windows, table tops and table coverings. Lexan sheet is great for outdoor projects, security windows, and to help prevent crime because polycarbonate is see through yet tough. Polycarbonate can be fabricated and glued using experienced methods and bending press brake of lexan is also possible. So if you need a clear shatter resistant and strong sheet of polycarbonate take a look at our prices which may just well be cheaper than home depot, Lowes and Menards lexan prices. We will work hard to ship your order in a timely manner because every order is important. Information on this page is deemed reliable but not guaranteed so see the respective thickness pages for tolerances, etc. Also known by trade names such as tuffak, hyzod, makrolon, and others. Buy your lexan and polycarbonate from us today! Again, we custom cut to your size on our HUGE plastic panel cutting saw.

We also have polycarbonate sheet with an ultraviolet protection option which protects the material and things behind it from UV rays.

Below is some specs on Monogal polycarbonate sheet. This covers different types of sheet so not all specs apply to ours:


MONOGAL
High quality extruded polycarbonate sheets
---
Monogal (Plazcarb) Polycarbonate extruded sheet is a very durable sheet that has high impact resistance. Monogal is stronger, usable in a higher temperature range and has better light transmission than many kinds of glass. Half the weight of glass and virtually unbreakable, Monogal sheets meet the stringent demand of applications such as heavy machinery, automotive, safety and construction, skylights and flat or curved glazing for architectural applications. A special co-extruded layer is provided on one or both sides for enhanced long term weather resistance.
Features and Benefits
Virtually unbreakable

High impact resistance

High clarity & light transmission UV protective layer – 1 or 2 side High flame resistant

Half the weight of glass

Easy to machine, handle and install
Applications
Glazing

Roofing and windows

Wind shields

Noise reduction barriers

Street furniture

Lighting and signage Thermoforming, vacuum forming Fabricated parts
| General Properties | Method | Units | Value |
| --- | --- | --- | --- |
| Density | ASTM D 792 | g/cm3 | 1.2 |
| Light transmission (Depending on thickness) | ASTM D 1003 | % | 81 – 90 |
| Refractive index | ASTM D 542 | | 1,585 |
| Mechanical | | | |
| Tensile Strength at yield | ASTM D 638 | PSI | 9,300 |
| Tensile Modulus | ASTM D 638 | PSI | 335,620 |
| Elongation at break | ASTM D 638 | % | >100 |
| Flexural Strength | ASTM D 790 | PSI | 13,450 |
| Flexural Modulus | ASTM D 790 | PSI | 338,690 |
| Rockwell hardness | ASTM D 785 | M-scale | 70 |
| Impact resistant – Izod Notched @0.125″ | ASTM D 256 | ft.lbs/in | 18 |
| Thermal | | | |
| Heat Deflection Temperature Under Load of 264 PSI | ASTM D 648 | oF | 270 |
| Vicat softening temp (50N) | ASTM D 1525 | oF | 290 |
| Coefficient of Thermal conductivity | ASTM D 177 | W/m x oC | 0.2 |
| Coefficient of linear thermal expansion – parallel | ASTM D 696 | BTU-in/hr-ft2 x oF | 3.8 x 105 |
| Flammability | UL-94 | oF | HB to V0 |
| Electrical | | | |
| Volume Resistivity | ASTM D 257 | Ω x cm | 8.2 x 1016 |
| Surface Resistivity, dry | ASTM D 257 | Ω | 6 x 1015 |
| Dissipation Factor 1Mhz | ASTM D 150 | | 0.009 |
| Dissipation Factor 100Hz | ASTM D 150 | | 0.0006 |

** Flammability for Monogal Standard Grade: UL-94 HB (0.03″ to 0.39″) – Monogal F Grade: HL-94 V0 (from 0.08″ to 0.5″)
---
Custom Cut Information:
We now custom cut at a small additional charge, $1.00 per piece. Here's how to get it done:

1). Choose the stock size that is larger than the size you need and enter the quantity. Click "add to cart"

2). In the text box BELOW the item on the checkout page, write the size that you would like it cut to. Specify the size in whole and fractional INCHES. Example: 23 X 16-1/4. No need to put inch marks ("). We will consider all figures to be inches-DO NOT SPECIFY IN FEET. Do not put any other information in the text box, only the size.

3). Checkout, or continue shopping. Thats it! We will custom cut it to your specified size, we keep any cutoff pieces.

---

Please Note:

A). We will not cut a piece into many smaller pieces, we will only reduce it to one size. We keep any cutoffs. We cannot do shapes other than a square or rectangle.
B.) Except as noted above, cutting tolerance is +/- 1/16". This means that your piece may be over or under your requested size by 1/16". Note that the initial tolerance of the piece we begin with is +/- 1/4", which may affect your requested size. As an example, say you wanted our 1/4 X 24 X 24 custom cut to 24 X 19. Since the piece we start with is already 1/4" undersize due to the initial tolerance, we are cutting from a piece that is actually 23-3/4 X 23-3/4. Therefore, the piece we send you will be actually 23-3/4 X 19. If it had to be exactly 24, you would have to order a larger size. We cannot accept returns because you failed to recognize this, so please be sure!
C). Edges are sawcut. We do not finish edges. Because of tolerance and thickness variations, do not expect all pieces to fit together properly if you are building a box, aquarium, etc. Finish sizing is up to you.
D). If you are ordering MANY of the same item and only want SOME of them custom cut, enter them separately. For example, if you want 5 pieces 24 X 24 but only need 2 of them custom cut, place '2' in the quantity box, add it to your cart, then specify the custom size. Then go back to that page and put '3' in the quantity box and add it to your cart.
E). Cutting charges will be added.
---
On all plastic materials, dimensions are in INCHES unless otherwise specified
Protective masking on materials, if any, may be paper, film, or both.
MOTOR FREIGHT ONLY items have a separate minimum requirement. See our faq page.
USA Orders/Payment Only. Prices are in US Dollars.
Note that we do not ship FedEx. UPS or Motor Freight to post office boxes.
Thank you for visiting freckleface.com