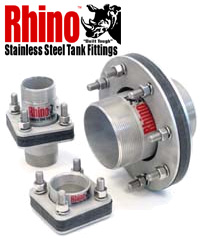 RHINO FITTINGS & GASKETS, STAINLESS STEEL TANK FITTINGS, STAINLESS STEEL BULKHEAD FITTINGS
Rhino Fittings are a high class, high strength alternative to tank fittings or bulkhead fittings and offer a secure, corrosion resistant connection when you require a pipe connection on a chemical or water tank, boat, ship, apparatus or other project. The Rhino Fitting clamps through the wall, squeezing the wall between two high-strength 316 stainless steel plates and a gasket, offering you the very best pipe connection possible.

Designed and engineered to perform under the harshest conditions, Rhino Stainless Steel Tank Fittings offer the ultimate in Sealing Power, Corrosion Resistance and Outright Brute Strength! Whether for Agriculture, Industrial, Residential or Mission Critical Applications, Rhino tank fittings are the expert's choice for professional tank and piping installations. Easy to install and built like a battleship…Nothing Beats a Rhino. Constructed entirely from chemical resistant, type 316 stainless steel, every Rhino fitting is laser cut from super heavy duty plate stock and robotically welded to exacting standards… a true work of Industrial Art….


Rhino Fittings come standard with an XLPE Foam Gasket, or you may purchase our EPDM or Viton Gasket for applications which require a more chemical resistant seal. We have seen nothing better than a Rhino Fitting!

Click On a Fitting Type Below, Or Scroll Down This Page To See A Side-By-Side Listing
---
---
On all plastic materials, dimensions are in INCHES unless otherwise specified
Protective masking on materials, if any, may be paper, film, or both.
MOTOR FREIGHT ONLY items have a separate minimum requirement. See our faq page.
USA Orders/Payment Only. Prices are in US Dollars.
Note that we do not ship FedEx. UPS or Motor Freight to post office boxes.
Thank you for visiting freckleface.com