NORWESCO 316 STAINLESS STEEL BOLTED TANK FITTINGS, NORWESCO 316 STAINLESS STEEL BOLTED BULKHEAD FITTINGS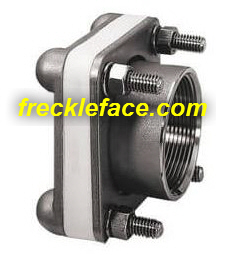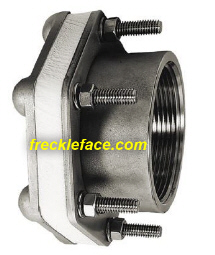 Check out this better alternative to Rhino Fittings. These are Norwesco brand strong stainless steel bolted bulkhead fittings and stainless steel bolted tank fittings made of chemical resistant 316 stainless steel. No internal bolt welds to leak; the stainless steel studs are in a blind hole so there's no worry about fasteners leaking. The tank wall gets clamped between the front and back of this bolted stainless steel fitting

which includes an EPDM gasket at no additional charge

. This provides a tough, leak resistant bolted bulkhead fitting seal for your water and chemical handling needs. These stainless tank fittings have a female national pipe taper (FNPT) from each side, also known as double threaded, so you can pipe on both sides of your tank or bulkhead wall. We have the following sizes: 3/4" bolted tank and bulkhead fitting, 1" bolted tank and bulkhead fitting, 1-1/2" bolted tank and bulkhead fitting, 2" bolted tank and bulkhead fitting, 3" bolted tank and bulkhead fitting, and 4" bolted tank and bulkhead fitting.

Consider this...
We have it. Again: We. Have. It. We are a stocking distributor. Unless someone buys these out and we're waiting for a re-supply, we have these on our shelf, in stock and ready to go. Put it in your cart, checkout and pay, and you're done.

We usually have 150 or so on the shelf in various sizes. Call or email if you'd like to check stock; sometimes someone buys everything we have of a particular size and new stock is on it's way in.



Shop carefully:

Others may take your order and then drop-ship from a remote location adding days or even weeks to your delivery

. When you need a bolted stainless tank or bulkhead fitting, you need it now! You don't want to wait, so we make sure we keep a reasonable inventory for you.

We have these only a few steps away in our huge warehouse where we can quickly get it out the door

.



And this...
An important and necessary part is the gasket which is absolutely required in order for the bolted bulkhead fitting or tank fitting to work. Many charge an additional $10.00-$15.00 or more for the gasket which obviously drives up your total cost.

We include an EPDM gasket with your stainless steel bolted tank fitting at no additional charge

so you're ready to go right out of the box. No worries about purchasing the gasket or whether or not it is readily available. It will arrive with your fitting so you have a complete bolted bulkhead fitting assembly ready to install immediately.
And finally...
You MUST use an anti-seize compound on the threads prior to assembly,

so
we give it to you at no additional charge.
There's no nonsense with freckleface.com. Order today!
---
Click on a Stainless Steel Bolted Norwesco Fitting to see your savings if you buy 2 or more. You will also see discounts change as you add or subtract these from your cart
---
Norwesco Bolted Bulkhead Tank Fitting Data, Size Information
This is for reference only. Do not drill any holes until you receive and verify your fitting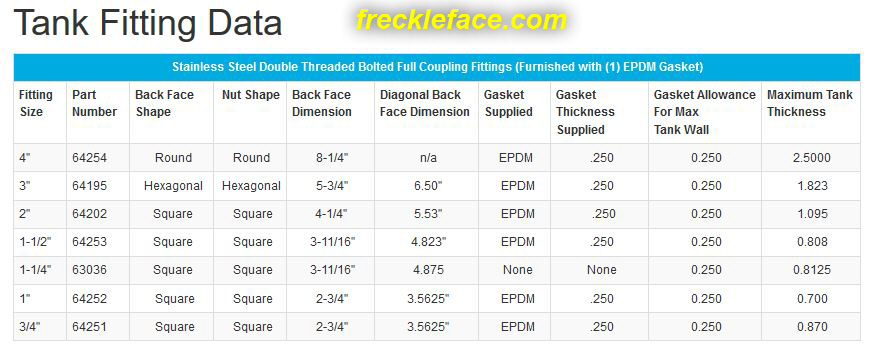 ---
Norwesco Bolted Bulkhead Tank Fitting Torque Specifications
This is for reference only. Do not drill any holes until you receive and verify your fitting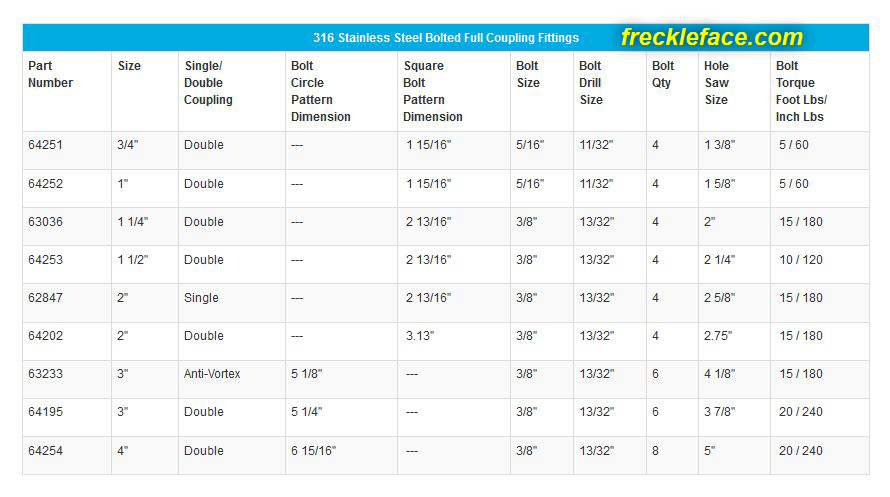 What is a bolted tank fitting? A bolted tank fitting is a fitting used to connect pipe or plumbing through the wall, bottom, or top of a tank or vessel in order to add or extract liquids, or pass liquids through. Holes are drilled through a flat area of the tank or vessel, the fitting is inserted from the inside, and a matching plate is attached to the outside over the studs and tightened, clamping the wall of the tank and providing a liquid-tight seal. Bolted tank fittings are also known as:

Bolted Tank Connection
Well Fitting
Bolted Bulkhead
Bolted Bulkhead Connection
Bolted Well Fitting
Bolted Bulkhead Fitting
Bolted Tank Bulkhead
Bolted Rhino Fitting
Rhino Fitting
Well Connection Fitting
Rhino Fitting Bulkhead
Tank Coupling
Rhino Connection Fitting
Bolted Tank Connector
Connection To Tank
Pipe To Tank Attachment
Bolted Water Well Connector
Tank Inlet Fitting
Well Water Connection
Tank Outlet Fitting
Tank Coupler
Tank Fitting With Bolts

These are many examples of how these are used and described
---
On all plastic materials, dimensions are in INCHES unless otherwise specified
Protective masking on materials, if any, may be paper, film, or both.
MOTOR FREIGHT ONLY items have a separate minimum requirement. See our faq page.
USA Orders/Payment Only. Prices are in US Dollars.
Note that we do not ship FedEx. UPS or Motor Freight to post office boxes.
Thank you for visiting freckleface.com