Buy a Cross, Buy a Gravesite Cross, Buy a Cemetary Cross, Buy a Display Cross
Buy A Cross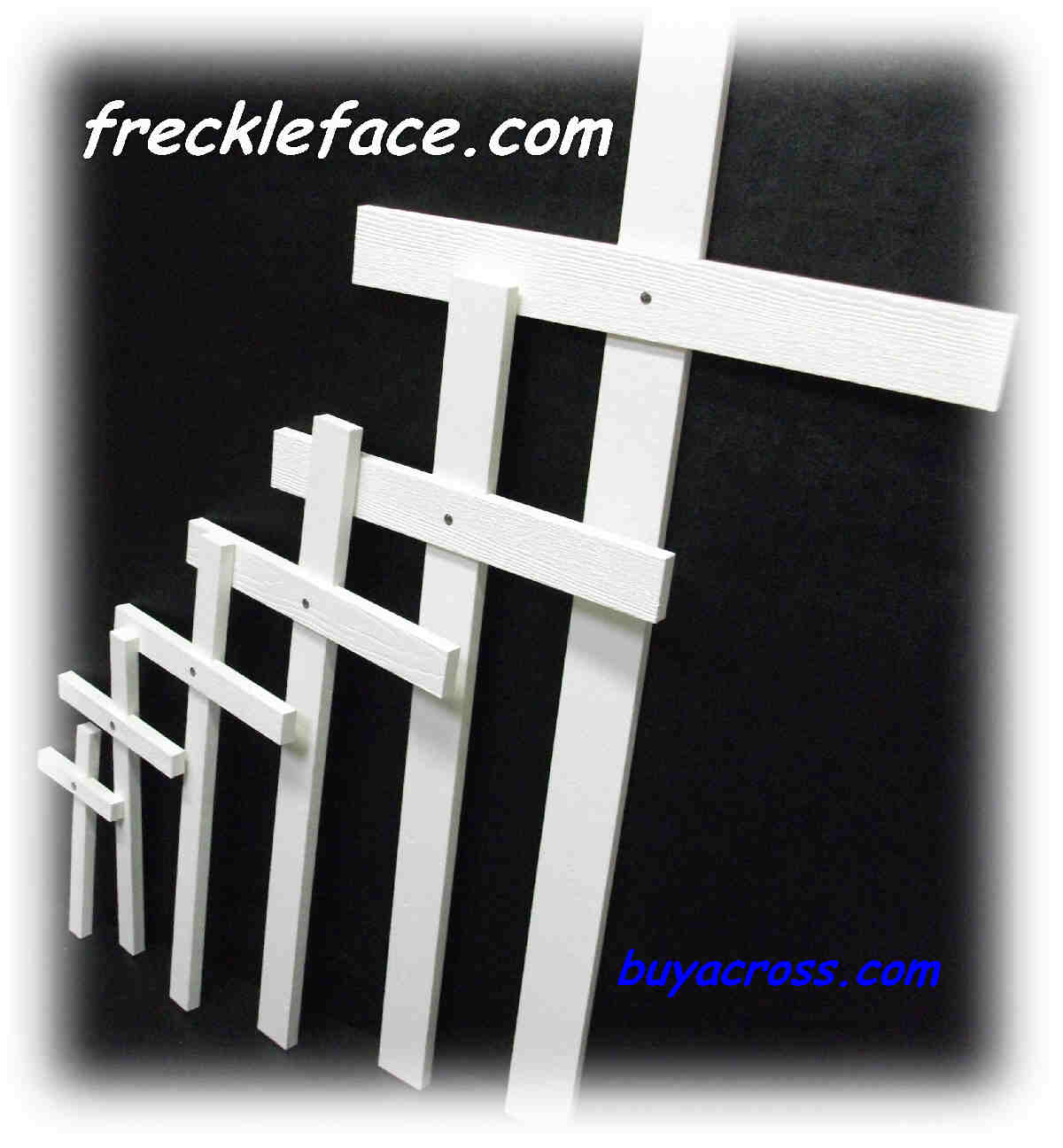 L to R:Tiny Cross, Small Cross, Medium Cross, Large Cross, Extra-Large Cross, And Mega Cross

Have you seen a cross at a roadside memorial, a cross at a cemetery or gravesite, or a field of hundreds of crosses on display for a particular cause?
Have you wondered where to get them? Welcome to buyacross.com by freckleface.com, THE source for quality outdoor crosses.
Our crosses are built to last for years and years! Whether you need a cemetery cross, gravesite cross, or a cross for display,
our weatherproof crosses are the very best choice. Made from an industrial plastic material designed to simulate wood,
our heavy duty-crosses NEVER need painting and have color all the way through. No paint to peel, chip, or flake (although you
may paint it if you wish to change the color). Sturdy partial lap-joint construction. Assembles in seconds with included stainless steel fastener.
Made in the USA in Painesville Township, Ohio by skilled craftsmen.

If you need to buy a field of crosses, we have quantity discounts depending on how many you buy. We ship daily across the USA, and can
even ship overnight (please call for availability on overnight shipments if it's an absolute need so we can check stock).
Our crosses are good for cemetery and gravesite use, churchyard, and even for that special place in your garden. They may be wall mounted, indoors or out.
Quantity discounts allow funeral homes and other re-sellers to buy below retail and be ready to fill a customer need when it arises.
Quantity discounts apply to mix or match; simply add to cart and/or update quantities, recalculate, and watch the prices adjust accordingly.
Of course, these are for display purposes only.

Note that crosses may be placed in the ground, but DO NOT HAMMER OR POUND!
Simply make a hole with a stake or other suitable object, place the cross therein, and fill in around the base.
DUE TO INCREASED DEMAND, QUANTITY ORDERS MAY TAKE 5-7 BUSINESS DAYS TO SHIP

To access this page directly, simply go to buyacross.com

More about our weather resistant indoor/outdoor crosses:
Made of an outdoor material used in construction applications

Crosses are for cemeteries

Outdoor displays use our crosses

Good for outdoor memorials and tributes

Church displays

Crosses for mounting on a church

Any application where a light weight, weather resistant cross is needed

Indoor cross display

Paintable

Stainless steel hardware resists rust

---
On all plastic materials, dimensions are in INCHES unless otherwise specified
Protective masking on materials, if any, may be paper, film, or both.
MOTOR FREIGHT ONLY items have a separate minimum requirement. See our faq page.
USA Orders/Payment Only. Prices are in US Dollars.
Note that we do not ship FedEx. UPS or Motor Freight to post office boxes.
Thank you for visiting freckleface.com