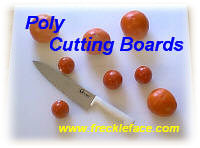 POLY PLASTIC RESTAURANT CUTTING BOARDS
Remember the last time that you used a wooden cutting board? Did you wonder if all that blood, grease and juice was soaking in and couldn't be cleaned out? Are the bacteria and germs just festering in there?
Welcome to the largest selection of plastic cutting boards anywhere! We sell to restaurants, meat processors, and to the general public.
Aren't you tired of only having a limited size selection at the department stores offering you thin, flimsy products? We Manufacture And Stock:

/// ROUND BOARDS, From Our Popular 12" Diameter Mini Chopping Boards To Our whopping 35-1/2 Pound, 36" Diameter Pizza & Cake Board! Excellent For Pizza, Rolling Noodles, Or Carving A Pig! Edges On Both Sides Are Rounded Over.

/// SQUARE AND RECTANGULAR BOARDS, From A Small 8" X 8" Onion Board to a huge 36" X 48" Pig Carver! Great For Small Jobs, Or Buy The Biggies To Cover Your Entire Counter! Good For Ribs, Bread, Large Cuts Of Beef, Etc. Edges On Both Sides Are Rounded Over.

/// HEAVY DUTY BOARDS: 3/4" Thick, Twice As Thick As Most Found In Stores! Helps Absorb The Shock Of Pounding And Hacking. Long Lasting. Excellent as gifts! Rarely Found In Stores. We also have 1/2" And 1" Thicknesses.

WHITE Polyolefin Cutting Board Material Made From An FDA Approved Resin. Dishwasher Safe, Easy To Clean.

HIGHEST QUALITY. All Are Custom Made By Skilled Craftsmen. Made in the USA in our factory. These will last and last and last!

NO MINIMUM PURCHASE! Many Manufacturers Require You To Buy A "Case", But We Have No Minimum Purchase. Only Need One? That's All You Have To Buy!


---
On all plastic materials, dimensions are in INCHES unless otherwise specified
Protective masking on materials, if any, may be paper, film, or both.
MOTOR FREIGHT ONLY items have a separate minimum requirement. See our faq page.
USA Orders/Payment Only. Prices are in US Dollars.
Note that we do not ship FedEx. UPS or Motor Freight to post office boxes.
Thank you for visiting freckleface.com