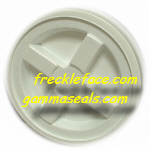 WHITE GAMMA SEALS, WHITE GAMMA SEAL LIDS
Why Buy from them after they buy from us to sell to you?
Buy today, direct from the warehouse for super savings!
We sell thousand and thousands of Gamma Seals.
---
Food Contact Information From The Manufacturer:
The Gamma Seal Lid: the raw material used in manufacturing is Formolene LH5206, High Density Polyethylene (HDPE).
Formolene LH5206 meets all requirements of the U.S. Food and Drug Administration as specified in 21CFR 177.1520, covering safe use of polyolefin articles intended for direct food contact.
The gaskets for the lid and the adapter are made from SBR (styrene-butadiene Rubber copolymer) and coated with an FDA approved silicone lubricant. The pigments used in manufacturing are heavy metal free.
Click Here To View The Gamma Seal Brochure
Gamma Seals and Pails are BPA-Free
---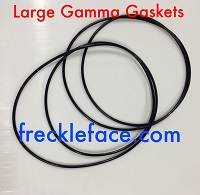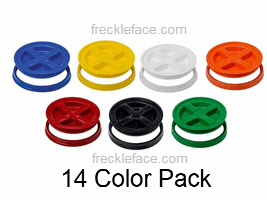 Gamma Seal 7 Color 14 Pack-TWO EACH OF White, Blue, Yellow, Black, Orange, Red & GreenComplete Including Lids, Adapter Rings, and Gaskets
14 Pack of Gamma Seals-
TWO EACH OF
W

hite

,

Blue

,

Yellow

, Black,

Orange

,

Red

&

Green

for 3.5 to 7 gallon bucket/pail.
Original Gamma Seals Made In The USA. Patent# 5,207,345.
Accept No Substitutes, Buy The BEST!

Quantity Discount: Click on the Gamma Lid name or photo to see!
Reg. Price $168.00
$84.00

Sale
---
On all plastic materials, dimensions are in INCHES unless otherwise specified
Protective masking on materials, if any, may be paper, film, or both.
MOTOR FREIGHT ONLY items have a separate minimum requirement. See our faq page.
USA Orders/Payment Only. Prices are in US Dollars.
Note that we do not ship FedEx. UPS or Motor Freight to post office boxes.
Thank you for visiting freckleface.com