CONTACT. FAQ. SHIPPING
freckleface.com
FREQUENTLY ASKED QUESTIONS
For Master Index Page Click Here

WHAT IS YOUR CONTACT INFORMATION?
freckleface.com, plasticmaterial.cc, & pierce-ohio
Phone 800-269-3163
Monday-Friday 8 A.M to 3 P.M., Eastern Standard Time
Order status inquiries MUST be by reply to the confirmation email
Online Orders Only
company@freckleface.com
PHYSICAL LOCATION/SHIPPING/RECEIVING
503 Lake Shore Blvd.
Painesville Twp., OH 44077
We are a warehouse not a store and do not accept visitors
***
BILLING/PAYMENTS/MAIL
503 Lake Shore Blvd., PO Box 242
Grand River, OH 44045-0242




IS YOUR BUSINESS LEGITIMATE? IS YOUR SITE SAFE?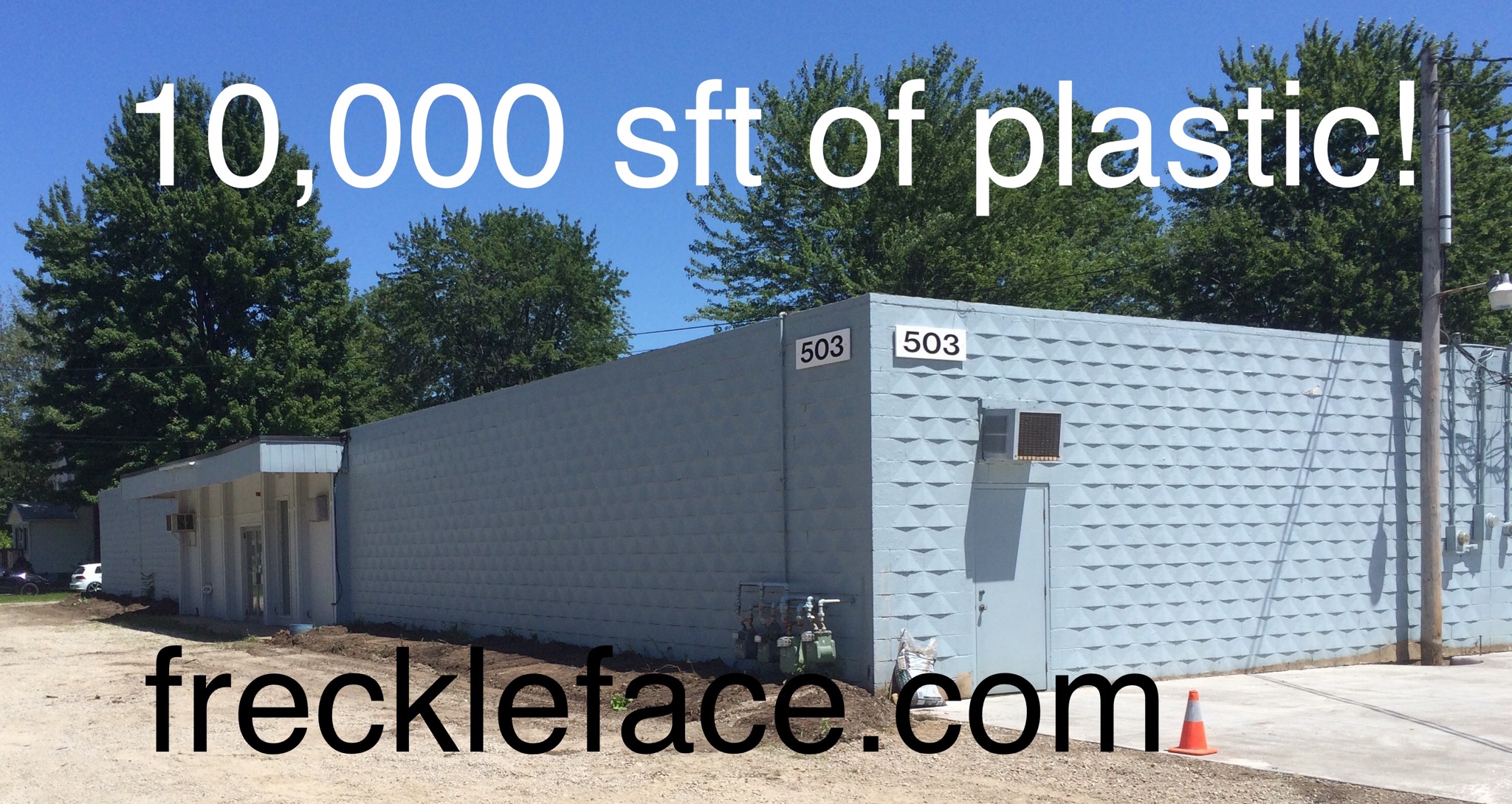 We are a well established, legitimate business registered with the State of Ohio. We own our 10,000 square foot building which sits on over an acre of land.
To see our TrendMicro security status Click here.



WHY WOULD YOU SWITCH ME FROM FEDEX TO USPS, OR FROM USPS TO FEDEX?
Our business is unique in that most orders are never the same. We cannot configure a system to anticipate the packaging of every combination of the various sizes that any one customer may order nor the quantity, weight and dimensions of every package. Therefore, human intervention at the warehouse level is the final determinant of such.
We may change your delivery service because the actual shipping and packaging cost has exceeded the cost shown on your order. This is usually due to residential surcharges, delivery area surcharges, oversize charges, and "dimensional weight" adjustments that cannot be determined in the shopping cart until your order is actually packaged.

As an example, let's assume FedEx was $13.00 and USPS was $14.50, so you chose FedEx. Upon shipping, the actual FedEx cost is higher at $19.25 and USPS is $16.00. If we decide to accept the loss rather than hit you with upcharges, we would ship it USPS so we would be accepting a $1.50 loss with USPS instead of the higher $6.25 loss with FedEx.


WHAT ARE THE SHIPPING CHARGES? WHAT IS MOTOR FREIGHT?




ITEMS THAT SHIP USPS & FedEx

USPS &
FedEx
Shipping Charges Are Based On Weight And Destination. You don't need to fill everything out in the shopping cart to see your USPS &
FedEx
charges, simply enter the destination Zip Code and click 'recalculate'. Unless you have a MOTOR FREIGHT order, a USPS &
FedEx
Linked Database Shows You The Approximate USPS &
FedEx
Charges Prior To Final Checkout. We ship USPS &
FedEx
every business day. In some instances due to weight, volume, and/or quantity of your package(s), some carriers or forms of shipping may not display in your shopping cart if they are not applicable to your order.
ITEMS THAT SHIP MOTOR FREIGHT ONLY
Items too large for USPS or
FedEx
must ship motor freight (semi-truck/tractor trailer) and will usually say 'MOTOR FREIGHT ONLY' in the item title or description.
We only ship motor 'MOTOR FREIGHT ONLY' items to a suitable industrial location that MUST accept semi-trucks and MUST have a forklift immediately available.


We DO NOT ship motor freight items to a residence, office, commercial location, college, school, campus, office, or similar
We require a $1,000.00 minimum order of motor freight only merchandise for any order that contains a
MOTOR FREIGHT ONLY
item.
Motor freight orders are generally shipped via semi-truck. Motor freight orders are based on weight, class, and destination. There is a minimum charge for Motor Freight shipping; usually $250.00 and up PLUS a pallet charge so consider this when placing a small order and whether or not such cost is worth it to you. If your Motor freight item is 96" or longer there's an additional surcharge of approx. $222.00 that carriers are now adding due to what they consider to be "over length".
MOTOR FREIGHT CHARGES ARE ADDITIONAL AND WILL NOT BE SHOWN IN YOUR SHOPPING CART, but will be added and charged to your bill after your approval.
We will email you the the motor freight cost for your approval before proceeding with your order.
Instead of motor freight items, you may wish to consider buying a piece(s) 36" X 48" or smaller, which can ship USPS or FedEx with no MOTOR FREIGHT minimum order amount. Add such smaller piece(s) to the shopping cart, enter your zip code and hit recalculate to see USPS & FedEx charges.


We will not quote motor freight charges unless and until you place an order. That means you're serious enough for us to spend some time shopping a good rate for you, and we will work to find you the best rate we possibly can. We will then email you the cost and give you an opportunity to proceed or cancel your order.
Note: Many times Motor Freight is relatively expensive when compared to the cost of the item(s) you are purchasing. If this is the case, you may wish to consider buying a piece(s) that is 36" X 48" or smaller, which can ship USPS or FedEx. You will then see the USPS & FedEx charges when you add it to your shopping cart. Also, as an example, if a customer orders 1 or 2 sheets that ship motor freight, it usually is only a small percentage more to ship additional sheets on that pallet. For example, if you plan a trip that is a few hundred miles and it costs $100.00 in gas, if you take more people with you the cost of the trip doesn't double or triple, it only increases slightly due to the increased weight of the passengers.
WHERE WE DO, AND DO NOT SHIP
We Ship To most U.S. Billable Addresses In the United States Only. We do not ship to postal stores, freight forwarders, or other masked locations. We do not ship to most schools and universities.
We Do Not Ship To Canada Or Accept Canadian Billable Credit Cards.



I BOUGHT SOMETHING FROM YOU, AND NOW IT'S ON SALE. CAN YOU CREDIT THE DIFFERENCE?
We cannot. If you buy something on sale and it goes up the next day, we promise we won't come back to you and ask you for more money either.



WHAT IS YOUR RETURN POLICY?
This is an industry to industry company, but we allow the general public to have access to our items. Please be sure of what you are buying. We do not accept returns.
Industrial buyers know what they want, and buy it. Again, we sell to industry but we'll be happy to sell to the non-industrial buyer if they understand this and know what they want.



CAN I PICK UP MY ORDER OR VISIT?
We are a warehouse, not a store. We do a lot of proprietary work in our facility. In order to maintain confidentiality, we cannot accept visitors.
However, we sometimes allow those customers buying substantial MOTOR FREIGHT ONLY items that wish to pick them up here instead of paying for motor freight shipping.



CAN I PLACE A PHONE OR MAIL ORDER? DO YOU HAVE A CALL CENTER? WHAT ABOUT PAYMENT?
Please know that we do not accept phone orders.
We accept online credit card orders only and do not accept purchase orders There's a reason: It's cheaper for us, which makes it cheaper for you.
Also, our secure online credit card entry system has extensive fraud controls which we can't implement over the phone.
We have a secure shopping cart server to accept your order online.

.....


---
On all plastic materials, dimensions are in INCHES unless otherwise specified
Protective masking on materials, if any, may be paper, film, or both.
MOTOR FREIGHT ONLY items have a separate minimum requirement. See our faq page.
USA Orders/Payment Only. Prices are in US Dollars.
Note that we do not ship FedEx. UPS or Motor Freight to post office boxes.
Thank you for visiting freckleface.com