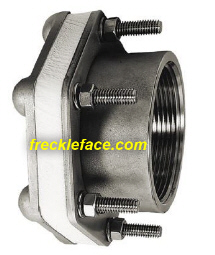 4" FNPT Norwesco 316 Stainless Steel Bolted Tank Fitting, Full Coupling (Double Threaded) 8 Bolt Complete. Includes EPDM Gasket -and- Anti-Seize Compound.
The 4" has a ROUND body, not hex as shown in the photo
SKU

NFC64254
| | | | |
| --- | --- | --- | --- |
| Quantity | 1 | 2 | 3+ |
| Regular Price | $585.00 | $585.00 | $585.00 |
| Quantity Price | $503.00 | $493.00 | $473.00 |
4" FNPT Norwesco 316 Stainless Steel Bolted Tank Fitting, Full Coupling (Double Threaded) 8 Bolt Complete. Includes EPDM Gasket -and- Anti-Seize Compound. The 4" has a ROUND body, not hex as shown in the photo More Details

This is a 4" Norwesco 316 Stainless Steel Bolted Bulkhead Tank Fitting, Full Coupling (Double Threaded) 4 Bolt with EPDM Gasket Included. Also known as a 4" bolted tank fitting or a 4" bolted bulkhead fitting, and sometimes as a 4" bolted rhino fitting. This is not a 4" rhino fitting but a similar, much better Norwesco alternative to 4" rhino fittings.
These Are

Genuine

316 Stainless Steel Norwesco Bulkhead Tank Fittings with

EPDM gasket included!

Female NPT each side.


You MUST use an anti-seize compound on the threads prior to assembly.
---
On all plastic materials, dimensions are in INCHES unless otherwise specified
Protective masking on materials, if any, may be paper, film, or both.
MOTOR FREIGHT ONLY items have a separate minimum requirement. See our faq page.
USA Orders/Payment Only. Prices are in US Dollars.
Note that we do not ship FedEx. UPS or Motor Freight to post office boxes.
Thank you for visiting freckleface.com