ACRYLIC PLEXIGLASS CLEAR CAST ACRYLIC TUBE POLYCARBONATE LEXAN PVC NYLON ROD NYLON SHEET CLEAR PVC POLYPROPYLENE DELRIN ACETAL ROD DELRIN ACETAL SHEET DELRIN ACETAL AF SHEET DELRIN ACETAL AF ROD TRIMBOARDD WOOD PLASTIC CUTTING BOARDS WHITEBOARD UHMW WASH BOOTHS/SINKS VALVES TANK FITTINGS RHINO FITTINGS RAIN BARREL FITTINGS MIRRORED ACRYLIC CROSSES BULK MATERIAL THICK PLASTIC SHEET CIRCLES SIGNS BULLET RESISTANT DEALS ODDS N ENDS ABRASION RESISTANT PVDF/KYNAR NOVUS POLISH BOOKS GAMMA SEALS GAMMA GASKETS PAILS/BUCKETS BROWN AND SHARPE PLASTIC TANKS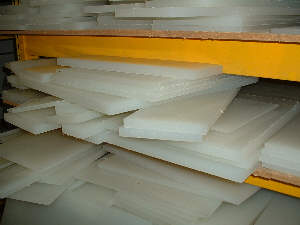 PVC Variety Box 10 Pounds
FREE SHIPPING!
$24.50 $22.00

On Sale


PVCVB10

This is a box of approximately 10 pounds of useable PVC sheet cutoffs & drops. Each box is different, and each contains a mix of various thicknesses and sizes.
Please don't ask for certain size/thicknesses. We cannot guarantee that you will receive any specific size, you get what you get at a ridiculously low price!

Great for fixtures, small parts, crafts, or just to have a decent stock on hand.

Order NOW, not always available!

---
Please Note: On all plastic materials, dimensions are in INCHES unless otherwise specified.
Protective masking on materials, if any, may be paper, film, or both.
MOTOR FREIGHT ONLY items have a separate minimum requirement. See our faq page.
USA Orders/Payment Only. Prices are in US Dollars.
Note that we do not ship FedEx or Motor Freight to post office boxes.
Thank you for visiting freckleface.com