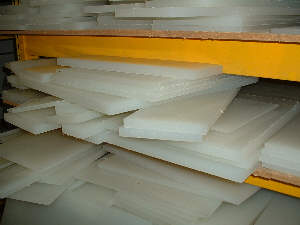 PVC Scrap Box 10 Pounds
FREE SHIPPING!
SKU

PVCVB10
$29.50
$25.00

Sale
You Save

25.00
PVC Scrap Box 10 PoundsFREE SHIPPING! More Details
This is a box of approximately 10 pounds of useable PVC sheet cutoffs & drops. Each box is different, and each contains a mix of various thicknesses and sizes.
Please don't ask for certain size/thicknesses. We cannot guarantee that you will receive any specific size, you get what you get at a ridiculously low price!

Great for fixtures, small parts, crafts, or just to have a decent stock on hand.

Order NOW, not always available!
---
On all plastic materials, dimensions are in INCHES unless otherwise specified
Protective masking on materials, if any, may be paper, film, or both.
MOTOR FREIGHT ONLY items have a separate minimum requirement. See our faq page.
USA Orders/Payment Only. Prices are in US Dollars.
Note that we do not ship FedEx. UPS or Motor Freight to post office boxes.
Thank you for visiting freckleface.com