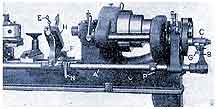 Lathe Notes Four-OUT OF PRINT, NO LONGER AVAILABLE
SKU

22504
Price $0.00

0.00
Lathe Notes Four-OUT OF PRINT, NO LONGER AVAILABLE More Details
Lathe Notes Four
from Machinery Magazine
reprinted by Lindsay Publications
Thread cutting in a lathe. That's what this is about. Today most threads are cut rapidly by rolling a cylinder between two dies. When precision is required, threads are cut slowly with an engine lathe.
The first lengthy article from 1918 reveals a number of thread cutting attachments for engine lathes to increase their ease of use and therefore their productivity when cutting threads. Discussed are attachments for cutting screws of large lead without breaking teeth off the change gears, a special lead-screw for cutting coarse pitches, methods of cutting threads so that the pitch is slightly greater or less than standard (to allow for heat treat shrinkage), use of translating gears for cutting metric pitches, designs of quick threading attachments, thread chasing attachments, devices for cutting tapered threads and more.
A second lengthy article teaches machinists how to cut standard threads in their engine lathes. (Apparently many readers of Machinery Magazine back then where just learning, too!) Here you get a basic course in thread cutting that is quite similar to other machine shop texts except this talks about the ideas behind the thread indicator, how to make successive cuts without an indicator, how to index and adjust the compound rest for multiple threads, using a multiple tool to cut multiple threads, how to adjust the lathe for taper thread cutting, gauging single-point thread tools, tools for cutting Whitworth threads and more.
Then you get six short articles from readers clarifying, arguing about, and revealing tricks and techniques for cutting square threads, multiple threads, cutting finer pitches than normal, and cutting coarse threads on a standard lathe. (A coarse thread, here, is has a 7 inch lead! Great for that giant wine press or Gutenberg printing press you were going to build!)
More practical how-to. Fascinating ideas to get you thinking. Good stuff. Get a copy. 5-1/2 x 8-1/2 booklet 48 pages.
---
On all plastic materials, dimensions are in INCHES unless otherwise specified
Protective masking on materials, if any, may be paper, film, or both.
MOTOR FREIGHT ONLY items have a separate minimum requirement. See our faq page.
USA Orders/Payment Only. Prices are in US Dollars.
Note that we do not ship FedEx. UPS or Motor Freight to post office boxes.
Thank you for visiting freckleface.com