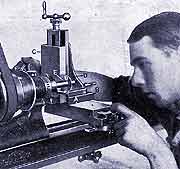 Lathe Notes Two-OUT OF PRINT, NO LONGER AVAILABLE
SKU

22288
Price $0.00

0.00
Lathe Notes Two-OUT OF PRINT, NO LONGER AVAILABLE More Details
Lathe Notes Two
articles from Machinery Magazine
reprinted by Lindsay Publications
Yeah, I know. You can't bring yourself to admit it. But it's true. The Brits have been the leaders at model building in the home machine shop, what they call "model engineering". One reason is that small, reasonably priced, yet accurate lathes appeared in England in the early 1900's. It took us a while longer to get started.
The first two articles are heavily illustrated articles revealing design features of small lathes being manufactured in 1924. These include the classic Drummond round bed, the Wade, those by Exe, ETA, Cheltenham, and others. You see how they were designed from the headstock to the tailstock. Some used roller bearings in the headstock, but some used simple Babbitt bearings with incredible results.
You'll see details on power cross feeds, how the Brittannia bed could be set at an angle, and other unusual design features not often seen these days. You'll also see a vertical milling attachment the bolted to the lathe bed (and you thought that was something modern?).
The second half of this collection covers "Work of the Bench Lathe" showing how simple lathes could be used to turn out quantities of accurate work. You'll see facing and counterboring with a rack & pinion slide rest, accurate shoulder turning, a lever operated tool slide, broaching with a rack & pinion tailstock !!, drilling small holes, turret attachments, grinding operations, thread cutting and milling, milling slots in bench lathe collet chuck, and more.
Fascinating reading for collectors, lathe builders, restorers (if you can find a British lathe), and those who enjoy the history of the lathe. After reading this, I dream of building a Stewart Marshall cupola so that I could pour the cast iron castings needed to build one of these early lathes. Maybe through correspondence you could locate an old one in England. Perhaps you could build an eight inch long model of one! Interesting ideas here.
Interesting reading. Heavily illustrated. Worth having.
5 1/2 x 8 1/2 booklet 48 pages.
---
On all plastic materials, dimensions are in INCHES unless otherwise specified
Protective masking on materials, if any, may be paper, film, or both.
MOTOR FREIGHT ONLY items have a separate minimum requirement. See our faq page.
USA Orders/Payment Only. Prices are in US Dollars.
Note that we do not ship FedEx. UPS or Motor Freight to post office boxes.
Thank you for visiting freckleface.com