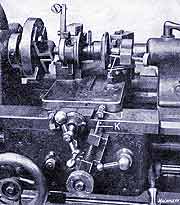 Lathe Notes Three
Price $7.95

7.95
Lathe Notes Three More Details
Lathe Notes Three
Articles from Machinery Magazine
Reprinted by Lindsay Publications
Devour a couple of lengthy articles written during WWI. It's a detailed comparison of British and American lathe design: bed types and shapes, saddle dimensions, headstock types and drives, and so on. Quite educational and very entertaining.
Then you get an offset tail stock attachment for turning tapers, a ball turning attachment, a quick indexing attachment for simple production work, a dividing attachment, and a milling attachment "originally designed for milling the flutes or grooves in taps and reamers, but many uses will be found for it...".
Visit the American Tool Works and watch them chase a 20 foot long 2" dia. lead screw to great accuracy - better than a thousandth per foot. You'll see the set up and get the details.
Unusual lathe practices IS unusual, to say the least.
Discover a set up used to a grind a triple thread worm with a 1 inch pitch (3 inch lead). Then watch machinists make over 300 throttling rods for 240mm French howitzers. The contoured rod is 61" long, it's diameter must be turned to within two thousands of an inch accuracy. They'll tell you how they did it. More than 300 without error!
See a lathe being used to broach slots in a series of bracket castings. Check out the rest devised for turning long slender work. And check out the set ups and sequences for creating a large boiler stay-bolt tap. You'll get tips on using the lathe for production work, and learn how one machinist cut his own chain sprockets in the lathe back when sprockets were expensive.
And last, you get another design for a wiggler that is used for centering work on the face plate prior to drilling and boring.
All this of this is history. It was done. By master machinists with simple tools. Good reading. Very reasonable price. Get a copy! 5 1/2 x 8 1/2 booklet 48 pages.
---
On all plastic materials, dimensions are in INCHES unless otherwise specified
Protective masking on materials, if any, may be paper, film, or both.
MOTOR FREIGHT ONLY items have a separate minimum requirement. See our faq page.
USA Orders/Payment Only. Prices are in US Dollars.
Note that we do not ship FedEx. UPS or Motor Freight to post office boxes.
Thank you for visiting freckleface.com