Payment By Phone
Payment By Phone



At Pierce-Ohio and freckleface.com we take information management seriously. We have encryption systems in place to keep your transaction safe so that you can buy quickly and with confidence. Entering your data online ensures a fast, easy, and smooth fulfillment of your order.
However, some people do not feel comfortable providing credit card information online. We have a solution: We can call you and take your credit card payment over the phone to complete your transaction. Here's what to do:



1. Place your order as you normally would, using our shopping cart system.




2. Provide all requested information (other than credit card info) including your name, shipping and billing address(es), email, etc. Make sure you provide a phone number where you can be reached during the day on a weekday.




3. When you get to the credit card fields, enter the following data instead of your own:





PAYMENT TYPE-Choose Visa, even if you will be using a different card




CARD NUMBER-Enter 4111-1111-1111-1111




CARD VERIFICATION VALUE-Enter CALL




NAME ON CARD-Enter CALL ME FOR INFORMATION




COMPANY-Enter CALL ME FOR INFORMATION




EXPIRATION DATE-Enter Jan 2025



Click the submit button and wait for the confirmation page. Write down the order number. That's it! We will call you during a weekday for your credit card information in order to complete your transaction. This may add an extra day or two to your ship date.
Note that we will NOT take your order over the phone, only your payment info. You must place your order on our site.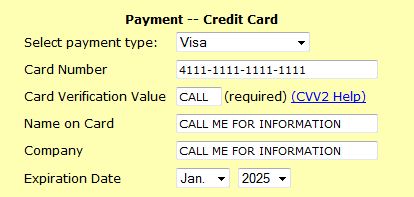 Your completed form should look like this.

---
Please Note: On all plastic materials, dimensions are in INCHES unless otherwise specified.
Protective masking on materials, if any, may be paper, film, or both.
MOTOR FREIGHT ONLY items have a separate minimum requirement. See our faq page.
USA Orders/Payment Only. Prices are in US Dollars.
Note that we do not ship FedEx or Motor Freight to post office boxes.
Thank you for visiting freckleface.com