GAMMA SOFT STORE AND TRAVEL-TAINER
Gamma Soft Store
The Gamma Soft Store allows you to store approx. 30 or approx. 50 pounds of pet food, grain, rice, etc. and keep it fresh! The durable plastic lined nylon bag collapses to allow minimal air space. Original Gamma Seal on top allows easy opening and closure with one quick twist. The gamma SoftStore is also great for keeping camping, boating or any outdoors or camping equipment and clothing clean and dry!
Try Gamma SoftStore today available from the name you trust, freckleface.com.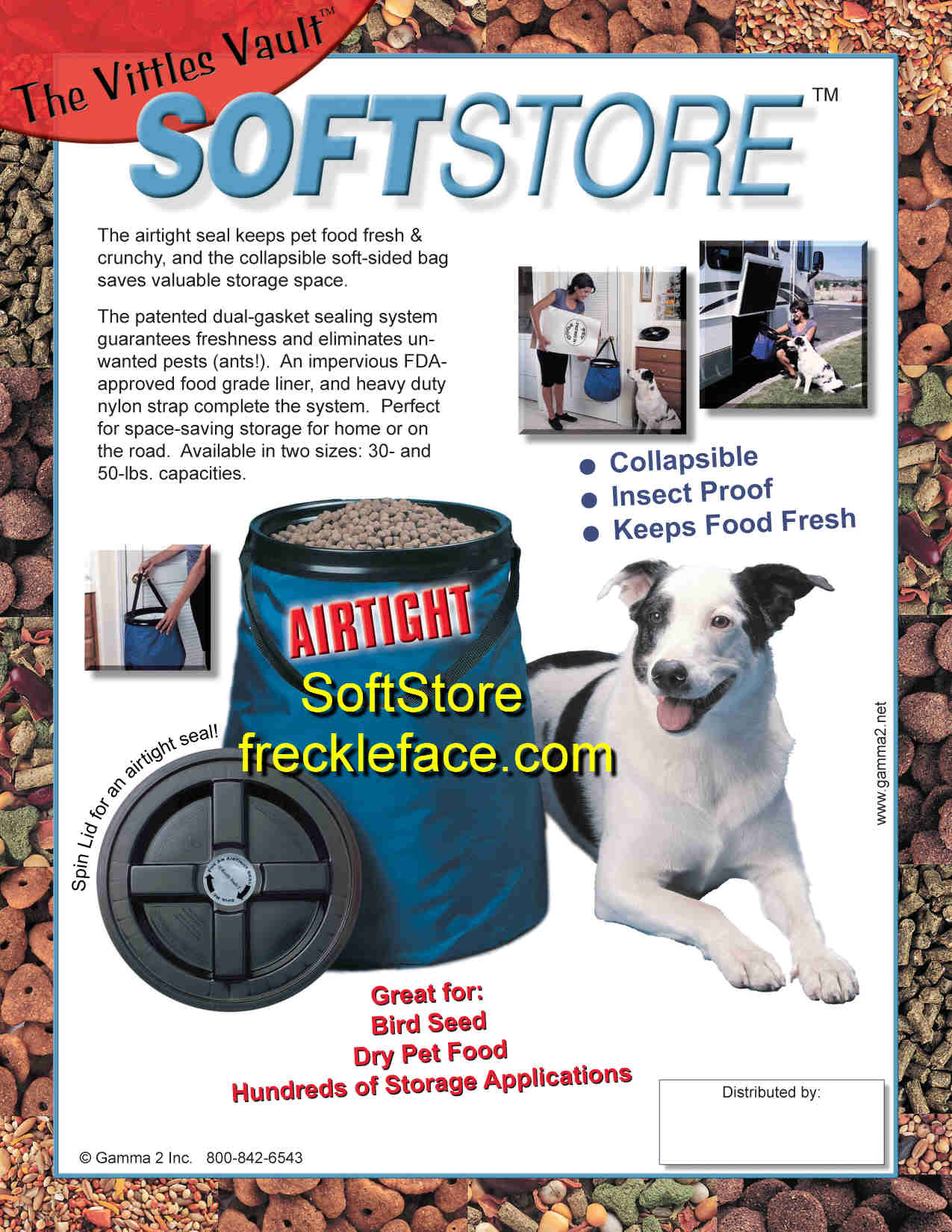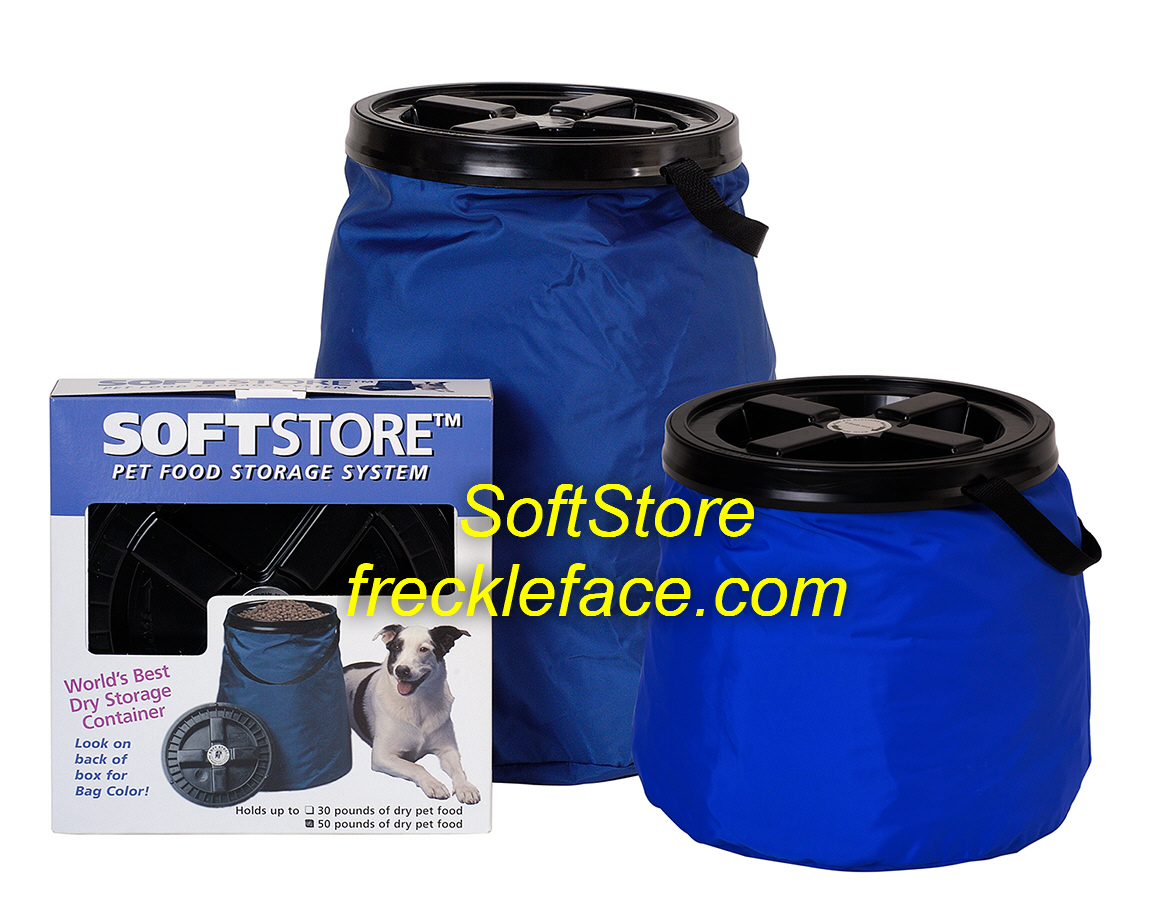 SOFTstore 30 - 13" Tall x 12" Diameter approx. 30-35 lbs (8.0 Gallons)
SOFTstore 50 - 30" Tall x 12" Diameter approx. 50-55 lbs. (13.0 Gallons)

Collapsible soft-sided bag keeps air out and saves valuable storage space.

Easy to Refill. Lid spins on & off

Insect Resistant

Food Grade Plastic Lid and Bag Liner
---
---
Gamma TRAVEL-Tainer
The Gamma TRAVEL-Tainer enables you to conveniently take your pets food with you while keeping it fresh. The 2 bowls easily detach allowing one for food and one for water! Wanna know a secret? We use them for taking cereal to work for lunch! Try Gamma Travel-Tainer today available here from the name you trust, freckleface.com.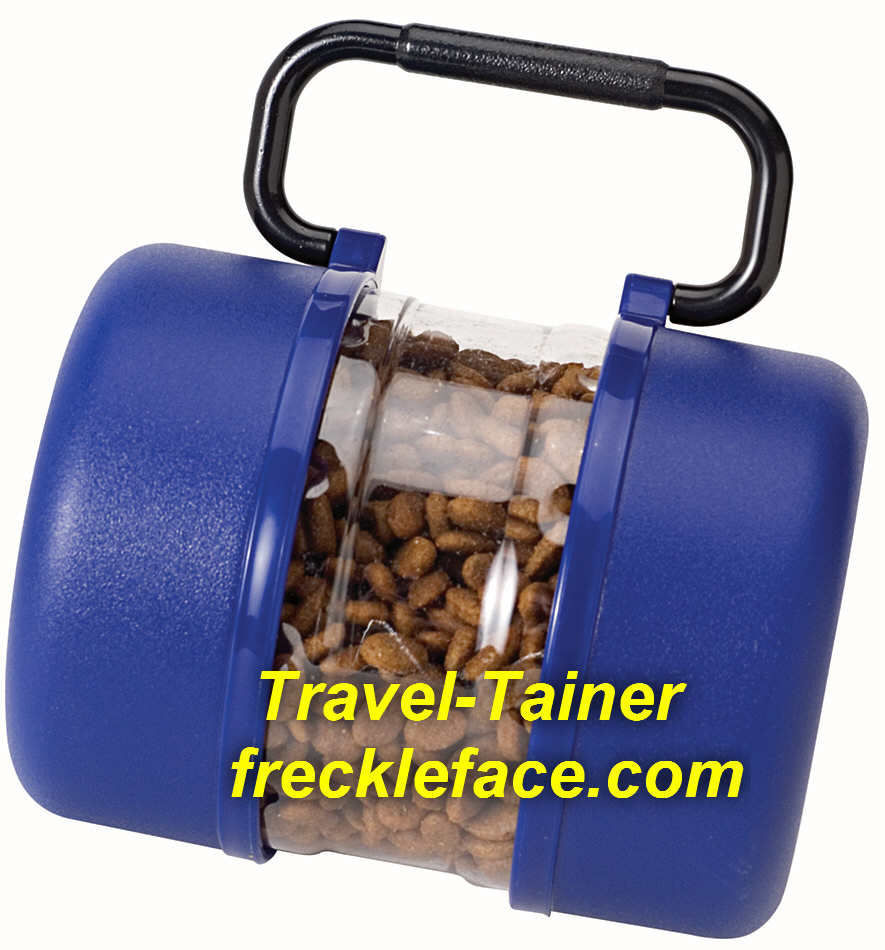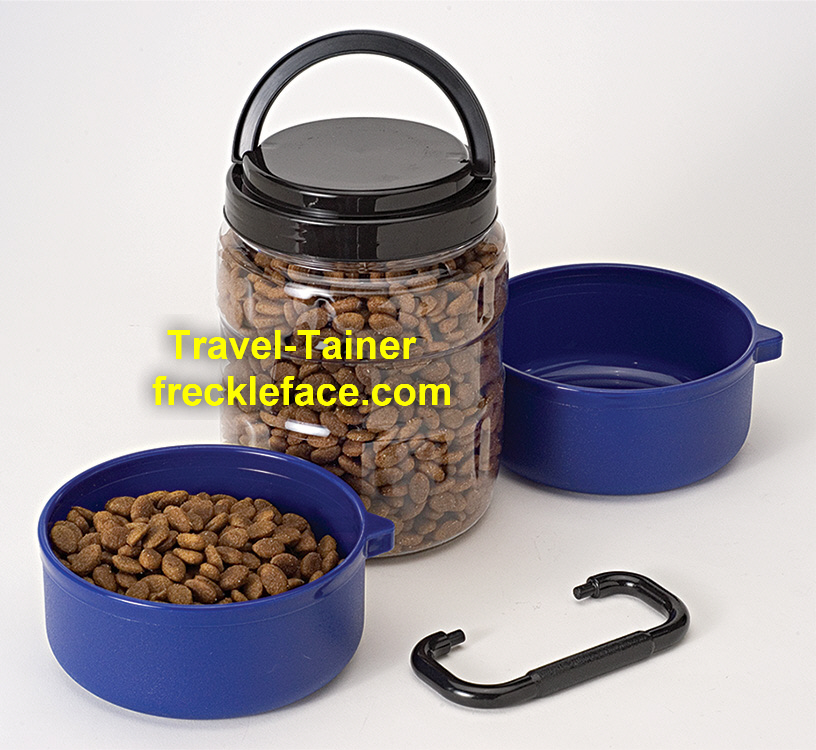 The TRAVEL-tainer keeps your pet food fresh, in an easy carry, airtight, food grade plastic container. Just remove the carry handle and pull off the food/water dishes. Twist off top and pour! Perfect for quick trips!
System includes 2 each, One Quart Bowls, 1 Clear Four Quart Container, and Black Plastic Carry Handle
Complete Transportable Pet Feeding System
Airtight - Keeps Food Fresh
Easy Meals on the Go
Compact Design (Transforms in seconds)

---
Please Note: On all plastic materials, dimensions are in INCHES unless otherwise specified.
Protective masking on materials, if any, may be paper, film, or both.
MOTOR FREIGHT ONLY items have a separate minimum requirement. See our faq page.
USA Orders/Payment Only. Prices are in US Dollars.
Note that we do not ship FedEx or Motor Freight to post office boxes.
Thank you for visiting freckleface.com