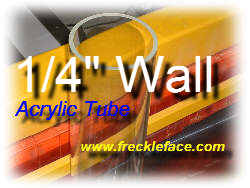 1/4 X 5-3/4 X 30 CAST ACRYLIC TUBE
Price $214.70

214.70
1/4 X 5-3/4 X 30 CAST ACRYLIC TUBE More Details
Superior to extruded tube, plexiglass cast acrylic tube is polished to a clear luster without the drag lines found in extruded tube. Casting also minimizes stress which results in a much stronger product.

If you want the strongest, clearest plexiglass acrylic tube available, this tube from freckleface.com is for you. Our plexiglass tube is centrifugally cast in a precision mold using quality acrylic resin for the best clarity possible. Extruded acrylic tube is squeezed from a machine and is very inferior to cast acrylic plexiglass tube because it has drag lines and stress resulting in a lack of clarity and it's very brittle. So if you want the best be sure to buy this CAST acrylic tube from freckleface.com.

Cast acrylic is unaffected by sunlight or fluorescent light, resists aging, and maintains stability over a wide range of environmental and chemical conditions.
Usually Ships Ground Only. Cast acrylic tube usually leaves our factory in 5-10 Business days because most are custom made to order. We do have many in stock as well so if you need it quick be sure to give us a call before you place your order and we'll let you know if it's available sooner.

Size Stated As Wall Thickness X Outside Diameter X Length, In Inches.
---
On all plastic materials, dimensions are in INCHES unless otherwise specified
Protective masking on materials, if any, may be paper, film, or both.
MOTOR FREIGHT ONLY items have a separate minimum requirement. See our faq page.
USA Orders/Payment Only. Prices are in US Dollars.
Note that we do not ship FedEx. UPS or Motor Freight to post office boxes.
Thank you for visiting freckleface.com