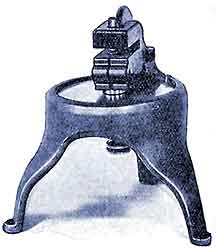 Machine Shop Odds & Ends, 1900's
Price $9.50

9.50
Machine Shop Odds & Ends, 1900's More Details
Articles from Machinery Magazine
reprinted by Lindsay Publications Inc
Check out these unusual, informative, and interesting articles that don't easily fit into any one convenient category.
Parsons developed the first practical steam turbine. Go back to 1913 and see how 60,000 new blades were installed in a rebuilding operation! It was done with relatively simple tools.
Learn about how watch escapements were gauged - that is, measured to maintain quality control. You'll see how it was done before WWI.
Then you get a lengthy heavily illustrated article on the history of the micrometer caliper from 1848 until 1915. It's followed by an article by JT Slocomb whose ego was obviously bruised. Feeling left out, he had to detail the history of the Slocomb Shop Micrometer. Great reading for collectors.
Next, you get short articles on building a cheap and effective trammel, details on gutta-percha, memories of metal cutting lathes of the early 1800's that in the hands of skilled mechanics could turn out rifles known for their accuracy!
Next a machinist moves from building huge machines to detailing how he built a simple but highly accurate clock. Next, a detailed article reveals the design theory behind the Geneva motion: a mechanism that smoothly turns rotary motion in reciprocating motion with minimal shock and wear.
Learn the secrets of a French firm that made diamond wire drawing dies including how they were bored and mounted.
You'll find recommendations for machining early plastics, fibre and other insulating materials common in 1922.
And finally you get two articles that had been presented before the ASME in 1927 about the new process of chrome plating. Buick had been plating radiators and bumpers for only a year, when it was recommended here for industrial use to reduce wear. Interesting technical details!
More great reading. Secrets of how industry accomplished amazing feats in the simple days before CNC and miracle alloys! Fascinating stuff for guys with grease under their nails. Get a copy. 5 1/2 x 8 1/2 softcover 64 pages
No. 22415
---
On all plastic materials, dimensions are in INCHES unless otherwise specified
Protective masking on materials, if any, may be paper, film, or both.
MOTOR FREIGHT ONLY items have a separate minimum requirement. See our faq page.
USA Orders/Payment Only. Prices are in US Dollars.
Note that we do not ship FedEx. UPS or Motor Freight to post office boxes.
Thank you for visiting freckleface.com