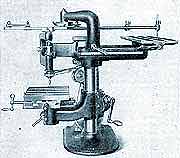 Lead Screws, Gears, And Pantographs, 1920's
Price $7.95

7.95
Lead Screws, Gears, And Pantographs, 1920's More Details
articles from Machinery Magazine
reprinted by Lindsay Publications
Knuckleheads insist you must have a lathe in order to build a lathe. If that's true, then how was the first one made? Similarly, you don't need a precision master screw to cut another screw thread. Someone must have made the first precision screws from scratch. How was it done? Holtzapfel reveals some techniques. Maudsley made his own two hundred years ago.
You'll learn the secrets of making precision screws for scientific instruments including preparation, cutting, recutting, and especially the lapping that removes residual errors. This is the same technique documented in a classic Amateur Scientist article in the 1950's. And the lap is similar to the 1000 threads per inch Merton nut mentioned in the 1930's in an article in the Review of Scientific Instruments. Great stuff for the precision fanatic. Oh! Be prepared to make measurements with an interferometer!
Another article will show you how a 4 foot lathe leadscrew was cut having only 40 millionths of an inch error across the entire length!
Also learn how small gears and pinions for clocks, watermeters, etc were mass produced just after WWI. You may not want to make hundreds of gears, but the basic techniques are interesting, and the ideas useful.
And if you've ever considering building a pantograph engraving machine, you'll like this article from the early 1920's. You'll see many different machines, each with its own application and benefits. You'll see drawings of bearings, cutters, sharpeners, layouts and more. You also get a photo and a brief mention of a pantograph capable of die milling and making three dimensional copies. Best material I've found so far for getting your idea generator going.
Heavily illustrated. Same fascinating quality. 5 1/2 x 8 1/2 booklet 48 pages
No. 22326
---
On all plastic materials, dimensions are in INCHES unless otherwise specified
Protective masking on materials, if any, may be paper, film, or both.
MOTOR FREIGHT ONLY items have a separate minimum requirement. See our faq page.
USA Orders/Payment Only. Prices are in US Dollars.
Note that we do not ship FedEx. UPS or Motor Freight to post office boxes.
Thank you for visiting freckleface.com