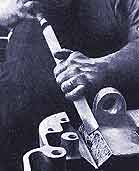 Bench Lathe Manufacture And Handscraping, 1921
Price $7.95

7.95
Bench Lathe Manufacture And Handscraping, 1921 More Details
Bench Lathe Manufacture And Handscraping, 1921
In this series of articles reprinted from Machinery Magazine about 1921 you get details on how precision bench lathes were quickly and accurately built with ordinary rather than custom built machine tools. You'll walk through the Potter and TLM factories in England and see beds being milled, headstocks being bored and aligned, bearing cones being ground, dovetails being milled and much more.

These articles were written for other manufacturers and reveal jigs, fixtures, and procedures that circumvent problems, improve accuracy, and increase production rates. You get tips, innovations, and industrial "secrets." You get page after page of photos of components being machined and the set-ups used.

You also get a short but beautifully illustrated article on handscraping, used not only for fit but for decorative effect as well. These eight pages are worth the price of the booklet alone.
If you build or rebuild machine tools, you're sure to learn something here that will help you. And even if you never use the material learned, you can be assured of fascinating reading. Get a copy! 5 1/2 x 8 1/2 booklet 48 pages.
---
On all plastic materials, dimensions are in INCHES unless otherwise specified
Protective masking on materials, if any, may be paper, film, or both.
MOTOR FREIGHT ONLY items have a separate minimum requirement. See our faq page.
USA Orders/Payment Only. Prices are in US Dollars.
Note that we do not ship FedEx. UPS or Motor Freight to post office boxes.
Thank you for visiting freckleface.com