Replacement Gasket For Large Gamma Seal Lid (2 Pack) FREE SHIPPING
Made of Black Buna N Rubber
Tighter Fit, Higher Quality Than The Original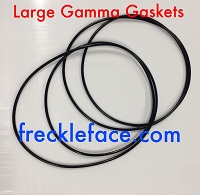 Replace your lost or damaged gaskets. This o-ring goes around the top edge of the large (11"-12")
Gamma Seal and the large ( 11"-12") Vittles Vault Gamma Seal screw cover for a fresh, tight seal. Sold as a 2 pack.